Get Real, Folks
Josh Marshall
Especially since the withdrawal from Afghanistan the insider sheets have been relentlessly hostile to President Biden. Last night the Axios evening headline was "Biden's China Fail". Tonight it's "Scoop: Biden Bombs". Apparently Biden didn't convince Joe Manchin to drop his opposition to a $3.5 trillion reconciliation package in their well-publicized-in-advance sit-down at the White House.
Axios's gloss aside, this does not surprise me. At the most optimistic this is Manchin's bargaining position going into a critical 6 weeks or so of negotiating within the Democratic caucuses in the House and Senate. Manchin's just going to give way in advance because Biden asks him to? That makes no sense to me at all.
Read More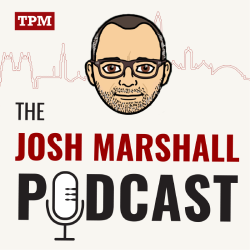 Ep. 190: California Said No
Josh and Kate discuss the failed effort to recall California Gov. Gavin Newsom and the President's meetings with a certain couple of senators who are threat...