Where Things Stand: Are We There Yet?
David Kurtz
Nicole is away, so the editors will be sharing Where Things Stand duties this week.
Over the next few days, I want to address a series of longer-term issues that transcend the breaking news of the day.
Let's start with the filibuster.
Read More
| News
Democrats are poised to orient the country's tax system in a whole new direction.
Read More
| News
Like lots of other rank-and-file Republicans, Robert Boyd has his doubts about the integrity of the last election, particularly in his home state of Michigan — and particularly in Detroit's TCF Center, where the city's votes were counted last year despite a concerted effort from local Republicans to disrupt the counting process.
Read More
| News
Senate Republicans blocked a major piece of Democrats' voting rights legislation, keeping the bill from even advancing to a floor debate despite Sen. Joe Manchin's (D-WV) insistence that it could garner bipartisan support.
Stop me if you've heard this one before.
Read More
| News
People of color made up the vast majority of Texas' decade-long growth spurt, especially Latinos, a group that accounted for fully half of the state's growth.
But Republicans control the state's legislature. And the new political maps they've approved in recent days as part of the redistricting process dilute Latinos' voting power, according to the first lawsuit over the maps.
Read More
| Muckraker
It was Jan. 3, and Jeffrey Bossert Clark had finally said yes.
Read More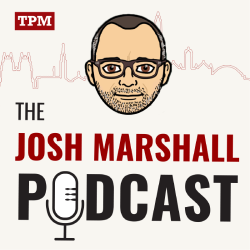 Ep. 195: Suddenly, Progress
Josh and Kate discuss the sudden forward lurch of the reconciliation negotiations that has Democra