Could the Court Toss a Ban on Partisan Gerrymandering?
Josh Marshall
Last week I noted that even if Sen. Joe Manchin (D-WV) is watering down the For the People Act, his somewhat diminished version is still very much worth fighting for. Part of my argument is that the ban on partisan gerrymandering is likely the most important part of the legislation. And Manchin appears to be saying that he supports that part of the bill.
Now, a number of you have written in to ask how excited we can be about that given the GOP majority (yes, intentional usage) Supreme Court which is often inclined to use the most facially absurd arguments if they advance conservative ideology or the present interests of the Republican party (yes, this is definitely still true). Or to put it more directly, how likely are those provisions to withstand the scrutiny of this Supreme Court?
Read More
| News
Before Texas filed a lawsuit that asked the Supreme Court to block President Biden's win in four battleground states, a draft of the petition was circulated to the Louisiana attorney general's office.
Read More
| News
Nearly three months after the head of Michigan's Republican Party unveiled an audacious plan that would allow GOP legislators to circumvent the state's Democratic governor's veto to pass restrictive voting laws, the contours of the scheme remain murky.
Read More
| Muckraker
Over the past two months of infrastructure talks, there's been a constant refrain from Republican negotiators: why not just use all the unspent COVID aid money to pay for the bill?
Read More
| Cafe
As a lifelong novel consumer who enjoys throwing myself into other worlds for hours on end, it probably won't come as a surprise that I don't read too many short stories.
Read More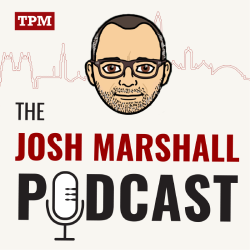 Ep. 177: Grading Garland's DOJ
Josh and Kate analyze the Department of Justice under Attorney General Merrick Garland and its pursuit of accountability (or lack thereof) for the Trump era...
MEMBER EXCLUSIVES
PRIMEWIRE